Our Solutions
Palladyne is an independent asset management firm, providing clients with total investment solutions to meet their needs, optimizing the risk-return of each client's personal investment profile.
We offer services to a wide variety of clients across the globe, ranging from government institutions, financial institutions, pension funds, trusts and foundations to high net worth individuals. Our mission is to deliver to clients a total solution that maintains risk-control. The investment process follows a philosophy of Asset-Liability Management based on downside risk, and the Man & Machine investment concept- as set out in the diagram below. The below investment pyramid layers illustrates the investment issues a client faces.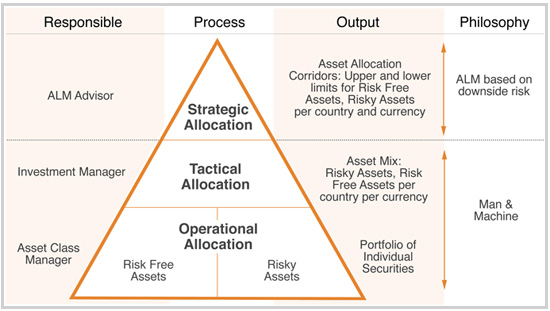 The top layer in the pyramid outlines the strategic allocation strategy which incorporates clients' needs and constraints in order to ensure that the future goals of the client stay within reach

Once the strategic allocation has been established, we implement the investment strategy and adjust accordingly to the current market conditions and recommendations per asset class in this layer, called tactical allocation. The outcome of this process is portfolios of assets which best suit clients' long-term strategic needs within a certain economic framework.

Based on the investment profile of the client, the initial two layers will be determined; and subsequently, the best possible portfolio of securities per asset class will be constructed and invested according to the distribution strategy of the optimum portfolio per asset class. Our investment solutions cover the following asset classes: global equity, global fixed income, global convertibles, global alternatives and exclusive private equity investments. The profile will be reviewed periodically with the client. Our investment management solutions are built on the latest investment insights which are fed through our proprietary software platforms, guided by our research and development team. This investment process is integrated into every layer of our investment pyramid to support the decision making process, and thus realise our Man & Machine concept.

The entire structured and disciplined process enables Palladyne International Asset Management to offer continuously optimised solutions to our clients on all three layers or on any specific layer, catered to specific client wishes resulting in an optimal investment solution that consistently provides optimised returns.